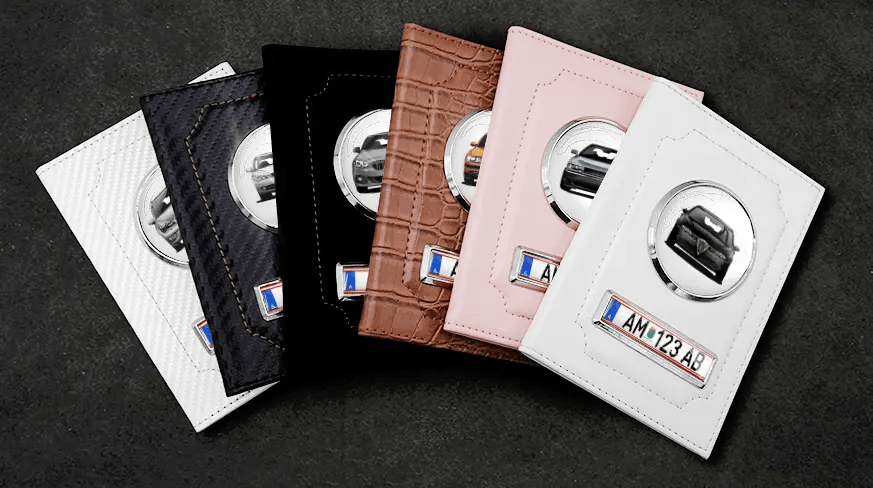 Driver's license case: how to personalize it
This accessory is for all car lovers and owners. We have created a protective and stylish driving licence case especially for your car documents. The driving licence case is personalised with your car or motorcycle model and registration number.
Carbon look and other design options
We offer you your cover for car license in different designs. This time we've come up with something special - a white carbon case for your car registration. The image of your car and license plate will be applied to it and provided with a high-quality epoxy coating.
Vehicle registration case - exactly what you call a really cool gift
Has a friend or family member passed the driving test or bought their first car or motorcycle? Can you think of anything that would make a more fitting memento of this occasion? With the case you will definitely have an original gift idea. Our car registration certificate case illustrates the bond and love for the car or motorbike you have driven.
Features of the case vehicle papers:




Proven quality - stable and durable
Your car registration certificate cover has a functional format and impresses with its great quality. Your accessory is made of carbon/carbon fibres. Carbon is a robust and resistant material that combines elegance and functionality.
Functional and practical
Our vehicle registration document cover has the right format for your vehicle registration documents - 14 cm x 10 cm x 5 mm (HxWxD). Your stylishly personalized accessory consists of two large compartments and has enough space for your papers. Your documents are safely stowed away in these compartments.
Don't be some car fan, be a cool car fan.
What makes you a real car fan? Of course the joy of your car and our cool accessories with your car motif.
CONSTRUCTION KIT - COVER FOR CAR DOCUMENTS:
Create your car registration case now: