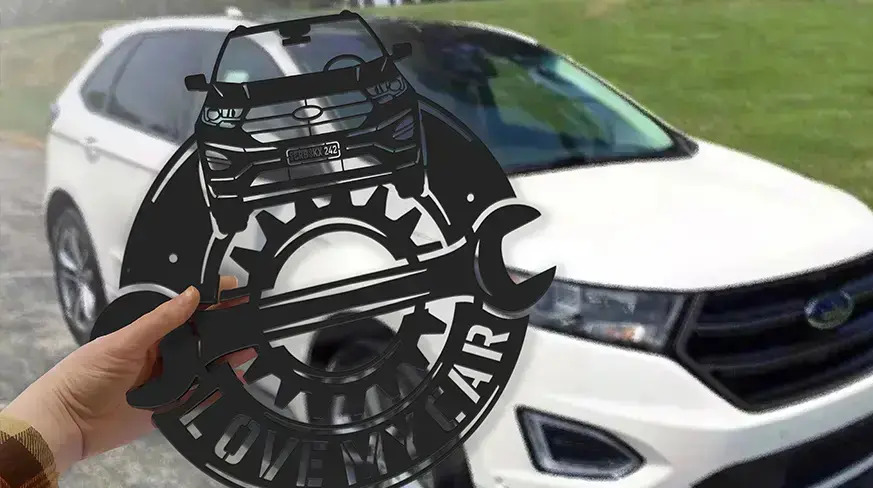 Stylish Eyecatcher
This garage sign is an optical grenade - a real eye-catcher. This decorative element is an ornament - whether in the cellar, in the garage, in the hobby room or in the workshop. The smell of lubricating oil literally rises into the nose of the observer. The sign convinces by the variety and complexity of its forms.
Adapted to its customers
You will receive a real unique piece with the wall decoration with car motif (motorcycle also possible). Determine the cut. First decide on the car model, which will be the central element of your sign. Next you decide which text should be cut into your sign. This way you achieve a comparatively high degree of personalization.
Use of the latest technology
The metal of the sign in workshop style is cut with a laser beam. This process is also known as laser cutting. The directed and concentrated light produces clean, narrow cut edges that are usually free of finishing work. The quality of the end product is therefore exceptionally high.
Features of the garage sign

Free choice of motif and lettering


Original decorative element

A wealth of shapes and smooth edges
GALLERY OF WALL DECORATION WITH CAR MOTIF
Stings in the eye
The wall decoration makes itself in each garage, in each hobby cellar and each workshop. Geometrical figures, wrenches, gears, car views, or lettering - your sign is a composition of various individual elements and shines in a noble metallic shine.
Personalized by you
Today, many consumer goods are mass products and it is difficult to stand out from the crowd. Here the opposite is rather the case. After you have decided on the lettering and your car model there will hardly be a second garage sign that looks like this.
With laser to high-quality results
The laser beam method allows a targeted processing. This allows the wall decoration with your car model to be designed according to your wishes. Your product gets clean and smooth edges, so you don't have to be afraid of cutting yourself.
CONSTRUCTION KIT - WALL DECORATION WITH CAR MODEL
Now create your wall decoration with your car model