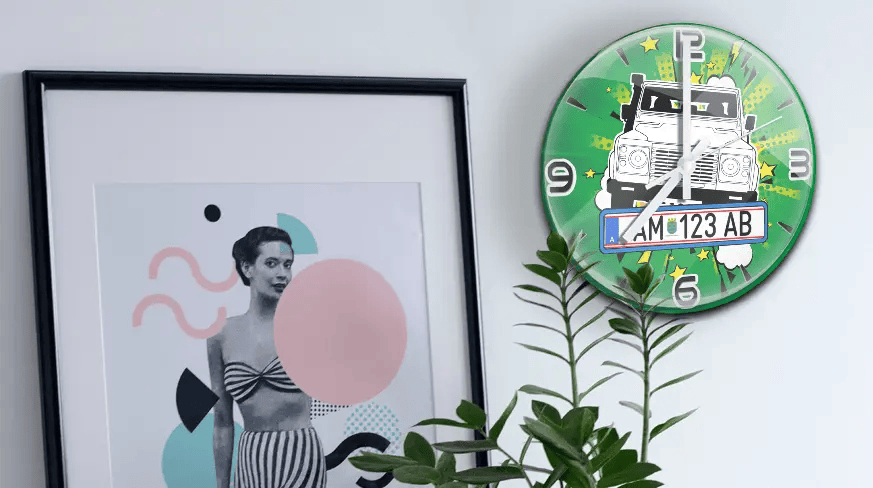 Always in time
Do you sometimes lose track of time? At home you have found a suitable place to hang a watch? Here we offer you a great wall clock with a car motif, with which you can always keep track of the time.
Your individual dial
Create your personal Chopper wall clock with us. Determine the underlying comic design and the pictured vehicle model including colour. With it you lend a completely personal note to your domestic four walls. The diameter of the clock is x centimetres.
Orginelles Comic-Design
You find classic wall clocks simple? In your opinion, the clock face deserves more than just a monochrome coat of paint? Our graphic designers have developed innovative, appealing and even futuristic background designs in the popular comic style for the wall clock with a car motif.
Features of the wall clock in comic design:


High quality manufacturing


GALLERY OF YOUR WALL CLOCK WITH MOTORCYCLE MOTIF
On the pulse of time
Optimize your time management with the wall clock with the car motif of your choice. This accessory will always tell you the time. While the phone or watch can be stored in different places, the wall clock remains in its fixed place.
Your own creation
No chopper wall clock is like the other. You modify the accessory according to your ideas. Decide on a basic design, the vehicle model shown and the license plate shown. This gives you a decisive influence on the finished product.
Not so serious: The comic style
You get here a real wall clock in comic design. The style captivates with its simple, clear forms, its strong colours and its playful design.
CONSTRUCTION KIT - WALL CLOCK WITH MOTORCYCLE MOTIF
Now create your wall clock in comic style